KA4BNI 220 mhz. Repeater - Jackson, TN.
224.240 mhz Rx / 222.640 Tx / 131.8 pl
The repeater PA has been repaired. The repeater is back up to full power.
The modified GE Master II set to 224.240 mhz (131.8 pl)
Inside of the repeater chassis. The 40 watt power amplifier is mounted at the back of the chassis. PA was purchased from Repeater-builder.com
Sinclair 220 mhz repeater duplexers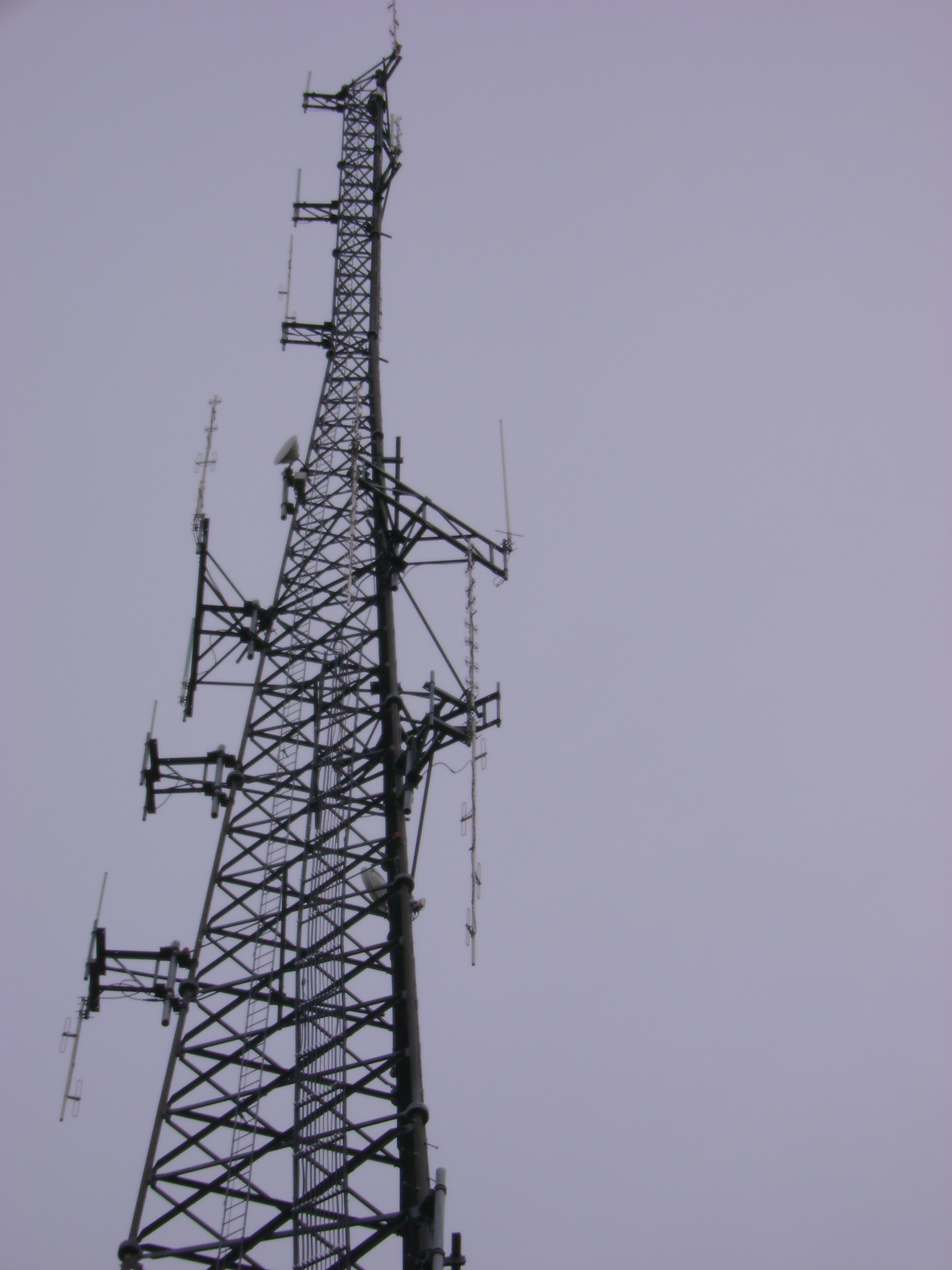 The repeater antenna (fiberglass antenna on the middle right) at 180' on the TEMA tower in Jackson, TN.
KA4BNI 220 Repeater History
The KA4BNI Jackson 220 mhz repeater started in 2010 with a GE Master II repeater station. The repeater consists of a modified VHF 150-170 mhz. receiver chassis. The first transmitter was an Alinco DR-235 mobile set to 10 watts output. The two were tied together with a Computer Automated Technologies CAT-300 repeater controller. The transmitter had an impedance mismatch with the controller which caused a loud hum in the audio.
November 2011: The Alinco mobile was replaced with a modified VHF Master II PLL exciter (Thank you to Scott Zimmerman). The hum in the audio is now gone. The repeater currently has about 0.25 watts output. The 0.25w output covers some of the Jackson area by mobile right now. The CAT controller was replaced with a simple CW ID board.
January 2012: A power amplifier kit was ordered from Scott Zimmerman at repeater-builder.com (Thank you to Gary, Jerry, and Ken). The 40 watt PA was mounted on a Master II PA heat sink, and the PA assembly was installed on the repeater. The repeater was reduced to 32 watts which allows approximately 28 watts out of the duplexers.
The repeater is fed into a set of Sinclair 220 duplexers purchased from Ebay. The antenna is a commercial Station Master 220 mhz. fiberglass antenna at 180', on the south east side of a commercial tower, and fed with 1/2" feedline.
At the present time the repeater receiver is not as sensitive as it should be. I'll either install a preamp or modify another receiver module, to replace the original, to improve the receive coverage of the repeater.
The repeater has good coverage to the south, east, and SW of Madison County and beyond. Coverage is reduced to the north because the antenna is positioned on the SE side of the tower.
This is my first try at building a 220 mhz repeater and the only active 220 mhz repeater in West TN outside of the Memphis area. Plans are to make improvements to the Jackson repeater and to build another repeater, for the Dresden - Weakley County area in the future, and then to link the two repeaters later.
Thank you to all who have supported and encouraged me on this project.
Please check back as this page is constantly being updated.
Hits Since February 13. 2012